How to buy OMI token (Ecomi)

Bob Singor
Saturday, April 17, 2021
Updated: Sunday, April 18, 2021
Want to jump straight to the answer? You can buy OMI token on
AscendEX (Formerly know as Bitmax)
or on
Uniswap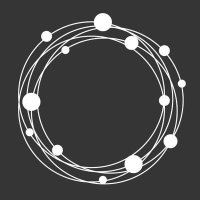 ECOMI
$0.0063
This seems to be the year of NFT's going mainstream. Everybody is talking about them, and you probably don't want to miss out on this. OMI is a token being used in VEVE, an app where you can buy digital collectibles also know as NFTs. In this article I will give you a brief introduction to OMI and VEVE and point you to how and where to buy the OMI token. Let's get started.
What are OMI, VEVE, and ECOMI?
Let's make a distinction about three terms: ECOMI, OMI and VEVE.
Ecomi is a Singapore-based technology company who built two projects in the blockchain space. The first project is called the Secure Wallet, which we won't go into in this article. The second project is the VEVE app.
Veve is an Android and Iphone app you can use to buy digital collectibles. They have made license agreements with some impressive brands, including Warner Bros, DC, Cartoon Network, Capcom and others. Each collectible is 3D and the items (and their demand) vary according to how common or rare they are. They are classified as: common, uncommon, rare, ultra rare or secret rare.
Every week, new collectibles are released in a drop. These drops are intense! You have to sit at your phone ready to click the button, otherwise you miss out on the collectibles. At the moment of writing this article, all items are routinely selling out within a couple of hours of the drop, with the hottest items going in minutes or even seconds.
Here you can see an example of a collectible:

So now we get to the point where the OMI tokens come in. Inside the app, you can exchange OMI tokens for GEM tokens. The GEM tokens are always equal to 1 USD. You buy and sell the digital collectibles with GEM tokens. The GEM system makes it easier because you don't have to deal with the fluctuating exchange rates of the OMI tokens. It is also simpler to understand the real price of the collectibles as they are basically listed in USD (GEM). If you resell NFTs in the VEVE app and want to cash out the profit, you can exchange your GEM tokens back to OMI tokens and then sell your OMI on a digital exchange like Uniswap or AscendEX.
Now of course you need to know where and how to buy these OMI tokens. Because this project is quite a new, you can't find this token on many exchanges yet. In the sections below we will cover the exchanges where you will find OMI and how you can buy the token.
How to buy OMI on AscendEX
The easiest way to buy the OMI token is on the exchange called AscendEX. They recently changed their name and you might know this exchange under the name Bitmax. Click the button below to open an account on AscendEX.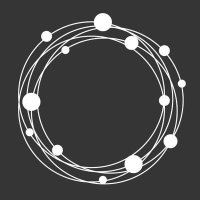 ECOMI
$0.0063
After opening an AscendEX account you have to buy or deposit a digital asset (cryptocurrency) into your account for trading. On an exchange, you trade one digital asset for another: these fixed partners are called trading pairs. Before you buy or deposit a digital asset it is important to check what trading pairs are available for the asset you want to buy. For example, in our case we want to buy OMI. You will see that on this exchange the only available pair is OMI/USDT (see picture below). This means we have to deposit or buy USDT tokens in order to buy the OMI tokens.

Buy USDT on AscendEX with a Credit Card
You will need digital assets in order to trade on exchanges. If you don't have any digital assets yet, you can buy them with a credit card on AscendEX. To do this, click the link "Fiat Payment" and select "Bank Card Payment"

On the bank card payment screen you can select your country's currency and the token you want to buy, in this case USDT.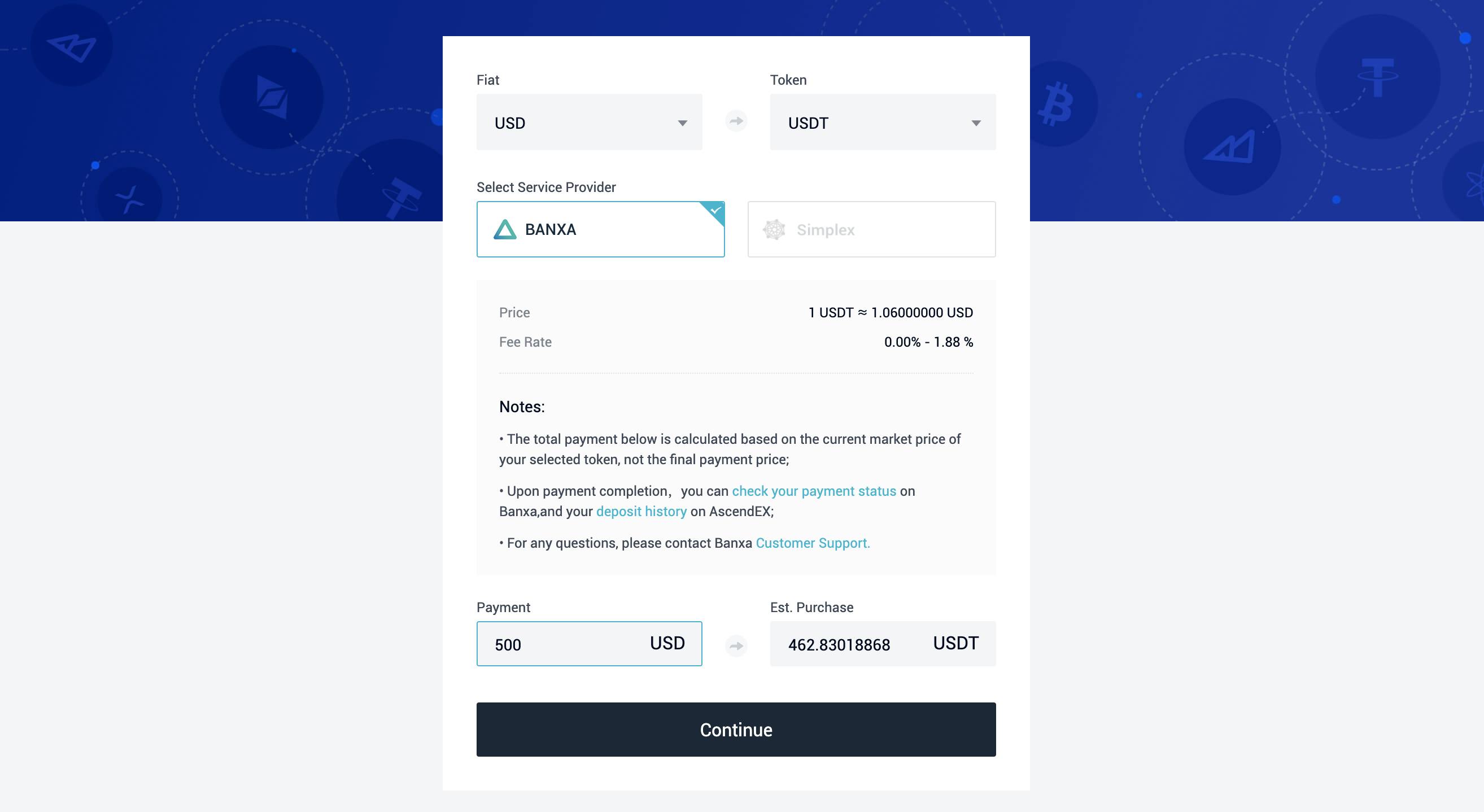 Deposit USDT into your AscendEX account
If you bought USDT by credit card in the previous step you can skip this step as it will already appear in your account.
To deposit USDT inside your AscendEX account, click the link "My Assets" on the top right of your screen and select "Cash Account"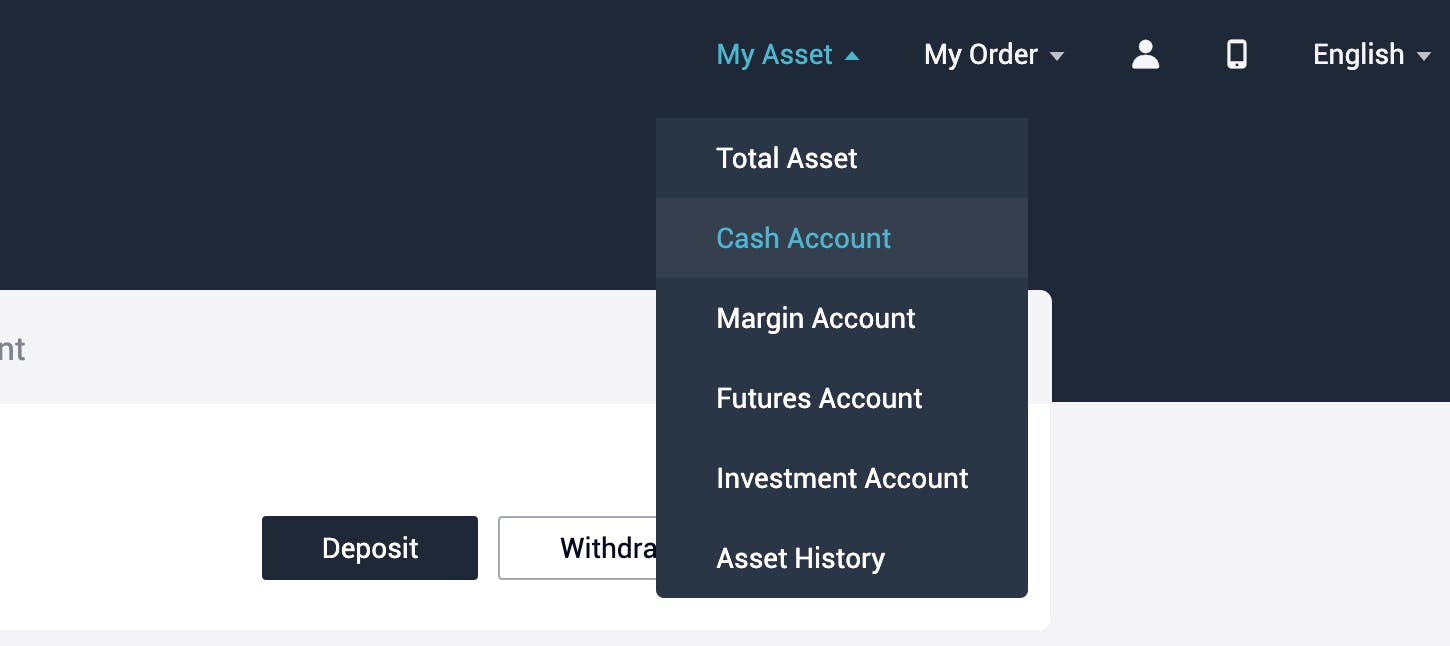 Search for USDT and click "deposit."

Copy the deposit address and make a transfer into the deposit address from another exchange or your physical wallet. Be careful to make sure you select the right network which you will transfer the USDT tokens to. If you select deposit address TRC20 and accidentally transfer it to ERC20, all your tokens will be lost. So do this step with caution!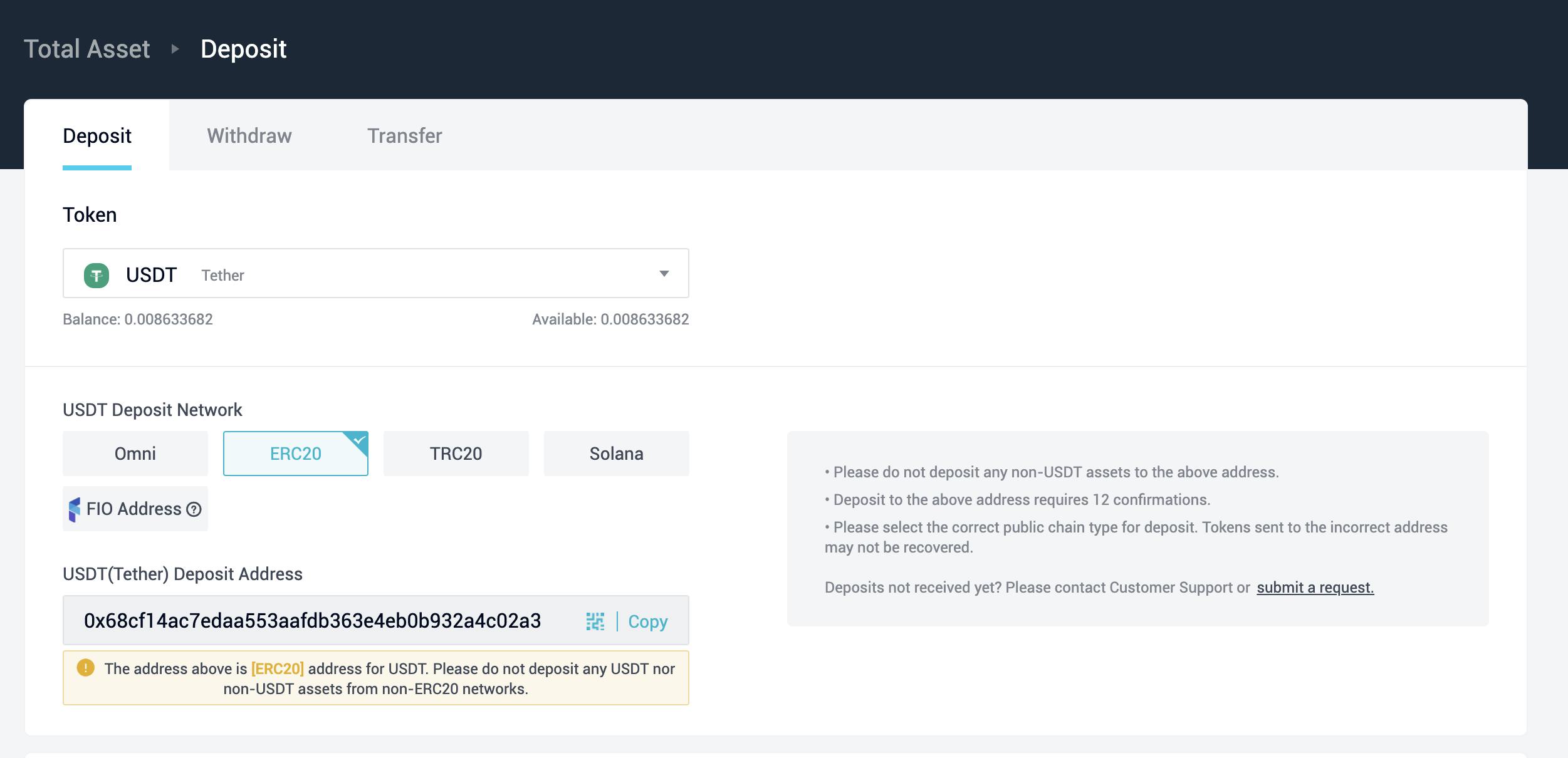 Buy OMI tokens with USDT on AscendEX
Now we are finally ready to buy OMI tokens. On the main screen, click the link on the top left that says "Market." Search for the OMI token and click the button "TRADE"

Select the price you want to pay for the OMI tokens and the amount of tokens you want to buy and click the button "BUY OMI." Wait until your order is fulfilled, and you are now an official owner of OMI tokens. Congratulations!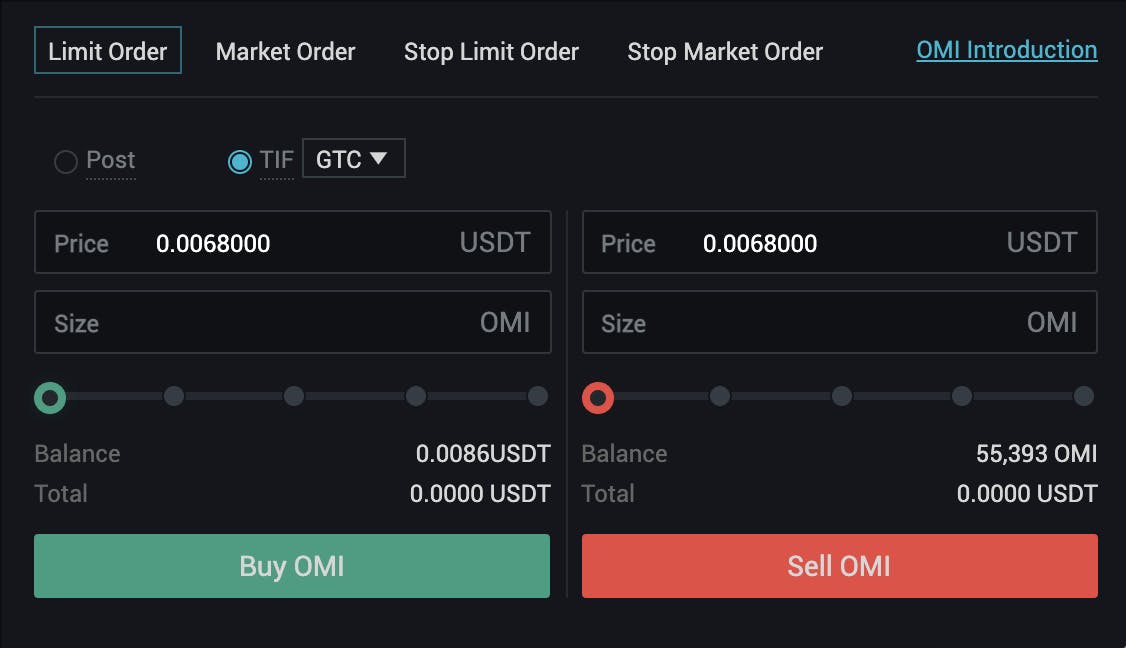 I hope you found this article helpful. If you have any questions please don't hesitate to contact us.